Readings Thursday, March 4
Tom La Farge, Jessie Stead, Wendy Walker and Bethany Wright
The small, intense and beautifully mysterious paintings of Maddy Rosenberg will be on display at Safe-T-Gallery from April 13 through May 13, 2006 in a show entitled "Speculative Ruins."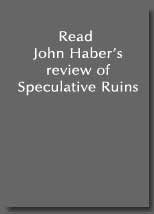 Working at a scale that moves the viewer into an intimate zone only a few inches from the paint, Maddy Rosenberg presents scenes that challenge traditional senses of order, scale and logic. With a precise line, these small paintings evoke a rather intent world of disjunctive architectural ruins, augmented by classical and medieval voices. The imagery utilizes pre-Renaissance perspectives, but her color and overall layout are pure early 21st century. And the overall presentation, small intense blocks of color against the white gallery walls, is positively Juddian in its cogency, only smaller.
Although the imagery in Maddy Rosenberg's paintings is largely inspired by European architecture and art, she is a native Brooklyn artist and she feels that New York has had a strong influence on her work. "I grew up among the fragmentation, viewing the world as a pastiche of disparate elements and juxtaposition of opposing textures. New York is a city of an amalgam of styles and materials, grayed down to work as a whole. I, too, have created cities, pieced together here and there with pieces of cities from here and there. My imagined worlds are no different from the one familiar to me..." John Haber writing in Artists Book Review comments, "Besides the puns on stonework and humanity, on three real and depicted dimensions, the levels of representation extend to her sources. She works from books rather than sketching out of doors, but what appears preposterous pretty much always exists. New York is like that."
In addition to her paintings, Maddy Rosenberg is a well known for her prints, artist's books and paper constructions. Her work is widely collected and is included in the collections of The Museum of Modern Art (New York), The Brooklyn Museum, the Fogg Museum, the Tate Gallery, and the Victoria and Albert Museum in London, among many others. She was recently awarded an NEA program grant for her curatorial project "Dialogue", which involved exhibitions in 6 venues in New York and Paris.
On the evening of May 4 at 7 PM there will be readings by writers Tom La Farge and Wendy Walker and poets Jessie Stead and Bethany Wright. The readings will relate both to Rosenberg's "Speculative Ruins" and to the installation piece by artist Stéphane Dumas, "The Lost Skin's Room," which is running concurrently at Safe-T-Gallery. Admission to the readings is free.