SURROUNDINGS
CAROL SALMANSON
SUSAN HAMBURGER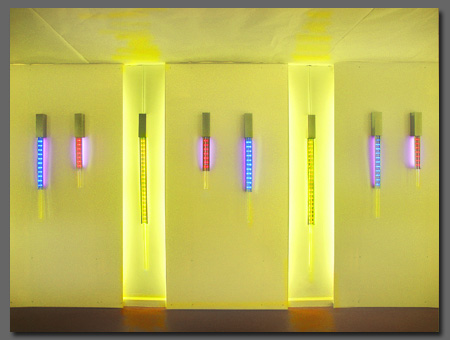 LUMINOUS LAYERS 2 @ CAROL SALMANSON
NOVEMBER 19 TO DECEMBER 19, 2004
OPENING RECEPTION FRIDAY, NOV. 19, 6 TO 8 PM
How do our surroundings affect us? Susan Hamburger and Carol Salmanson respond to this question in different media, from two divergent angles. Hamburger works with ink on paper, updating classic porcelain designs with contemporary Williamsburg architectural icons. Salmanson uses light in a theatrical manner to alter perceptions of space.
Susan Hamburger's trompe l'oeil dinnerware sets are cut-outs in ink on watercolor paper, mounted on foam core. While the borders of these platters, plates and cups are based on the 18th century designs of the English porcelain company Spode, the landscape images come from Hamburger's neighborhood and studio environs. Landmarks such as the Williamsburg Bridge and the Russian Orthodox Church are featured as the artist addresses issues of collecting and decorating, and the use of the dinner plate as a literal "place" setting.

Carol Salmanson's installation "Luminous Layers 2" combines optics with different lighting technologies. Using electronic-ballast fluorescent fixtures, light-emitting diodes, reflective angled steel, and hexagonal prism rods, she creates jewel-like wall mounted constructions with multiple luminescent layers. They act in concert to create a subtle environment of pulsating color both bright and soft onto the walls and into the room, changing one's experience of the space.
© Susan Hamburger