Alan Gaynor
Subway Photographs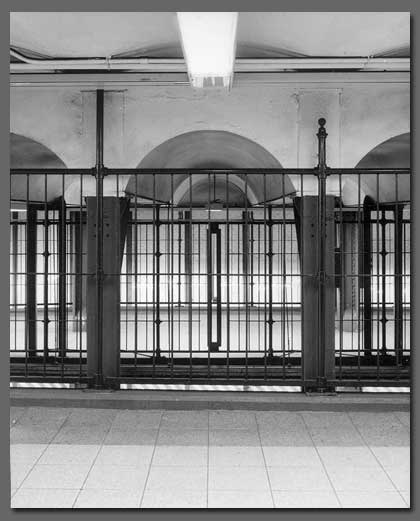 March 26 through April 25, 2004
Opening Reception: Saturday, March 27, 3 to 6 PM
Special Event: Saturday, April 17 3 PM
Talk by Subway Historian Shoshana Rothaizer
and discussion with Alan Gaynor and Daryl-Ann Saunders
Safe-T-Gallery is pleased to celebrate the 100th anniversary of the opening of the New York City Subway System with an exhibition of extraordinary large-format black and white photographs by Alan Gaynor, A.I.A. Mr. Gaynor's photographs reveal a world of brightness and classical purity in the corners and corridors of the subway system, that are literally by-passed by thousands of subway riders daily. This collection of photos highlights some of the innate beauty in the system's construction.
Inaugurated in 1904, the New York City Subway System design incorporated elements of deliberate elegance alongside areas of decidedly quotidian utility. Mr. Gaynor, who runs a NYC architectural practice, brings a trained and often whimsical eye to this environment. He often focuses on the areas where 'Classical' aspirations meet the immediate needs of moving thousands of trains and millions of people daily. Dirt, grime and decay are not a stranger to these pictures, in fact, the large format camera used by Mr. Gaynor practically insures that they will be seen. However, in the larger context of the white tiled walls and articulated steel structures, the predominant shade in these stunning black and white images is white.
The exhibit will open on March 26th and run through April 24th with a public reception for the artist on Saturday, March 27th from 3 to 6 PM. This show will run concurrently with a show of the work of Daryl-Ann Saunders also titled "Subway Photographs." On April 17th the gallery will host a entertaining talk by photographer and subway historian Shoshana Rothaizer on the history of the Brooklyn subway system, specifically the Coney Island terminal. This will be followed by short presentations by Alan Gaynor and Daryl-Ann Saunders. It will be an excellent opportunity to meet the artists and to learn more about this fascinating part of New York City life.

.